Steve's Leg of Lamb with Rosemary Demiglace
4 lb boneless leg of lamb in oven roasting net*
1 head garlic
1 Tbs fresh rosemary leaves plus one whole branch
2 Tbs fresh oregano leaves
ground black pepper
salt
Remove the lamb from the roasting net. Preheat oven to 450º F. Reserve the one branch of rosemary for the demiglace.
Take 12 of the largest garlic cloves and cut into very fine large slices with a sharp knife. Save slices to later place around the outside of the roast.
Finely chop the rosemary, oregano, and remaining garlic in a food processor. Remove the lamb from the roasting net and thoroughly coat the inside of the lamb with half of the chopped herb mixture. Sprinkle with salt and pepper. Roll up the lamb and place back in the roasting net. Cover the outside of the meat and net with the remaining herb mixture and sprinkle with salt and pepper.
Place the finely sliced garlic under the net covering as much of the lamb as possible with sliced garlic. The net should keep the slices from falling off during roasting.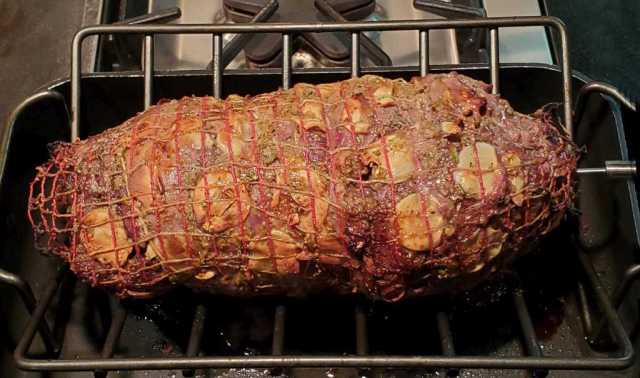 Place the lamb in a roasting rack and roasting pan. Insert a meat thermometer through the cylindrical axis of the roast. Make sure the tip of the thermometer is located in the exact center of the roast. Roast at 450º F until the garlic starts to brown. Turn the roast over and repeat until the garlic on the bottom is also browned. Turn the oven down to 350º F and continue to roast until the meat thermometer registers 125º F. Cooking will take from 60 to 90 minutes.
Remove the pan from the oven and let stand for 10 minutes. While standing, the interior meat temperature will continue to increase by about 10º F to 15º F causing the meat to cook to medium rare.
Transfer the lamb to a carving board and serve with Rosemary Demiglace and mint jelly**.
*NOTE: A high-quality boneless leg of lamb in roasting net is usually available at Costco.
**NOTE: Reese mint jelly is recommended.