Steve's Deviled Eggs
15 jumbo eggs*
¼ cup finely chopped onion
3 cloves garlic – finely chopped
5 tsp chopped fresh dill
3 Tbs mayonnaise
2 Tbs Coleman's English mustard
3 Tbs honey
1 Tbs lemon juice
¼ tsp ground black pepper
⅛ tsp cayenne pepper
paprika
salt
Hard boil and peel the eggs. (See Hard Boiled Eggs.) ) Cut each egg in half lengthwise. Remove the 15 yolks and place them in a food processor. Place 24 of the egg white halves in one or two deviled egg trays.
Combine egg yolks, onion, garlic, dill, mayonnaise, mustard, honey, lemon juice, black pepper, and cayenne pepper in a food processor and blend until very smooth. Add salt to taste.
Using a pastry bag fill the whites with the yolk mixture. Place a small sprig of dill on each egg for garnish and sprinkle with paprika.
Cover with plastic wrap and refrigerate. Refrigerating overnight allows the filling to solidify so the deviled eggs won't be mushy. Deviled eggs will keep in the refrigerator for up to 1 week.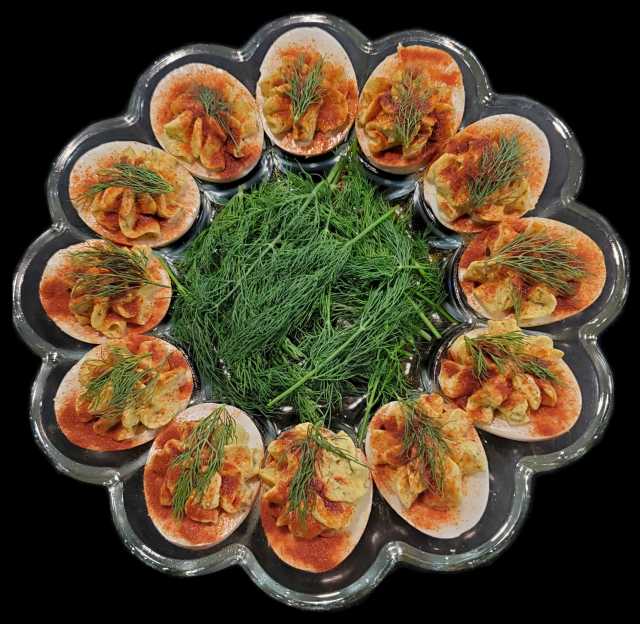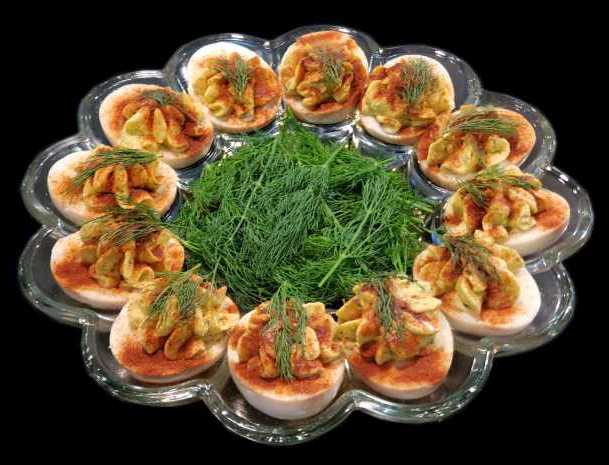 *Note: One dozen eggs plus three additional eggs for extra yolk for filling. This also provides extra hard-boiled egg whites in case some of the hard-boiled whites are too thin or break and must be replaced.