Steve's Cream of Asparagus Soup
2 lbs fresh asparagus
1 large onion
1 large shallot
1 oz. (4 large cloves) garlic
6 Tbl unsalted butter *
5½ cups (3 cans) Swanson's chicken broth
4 cups heavy cream
1½ Tbs lemon juice
6 Tbl sugar
1½ tsp salt
* For best results, use clarified butter.
Cut onion and shallot into small pieces and chop the garlic. Place into a large pot with 6 Tbl butter and sauté for 10 to 15 minutes until the onion is translucent.
Cut the asparagus spears into 1-inch pieces, saving 1 to 2 inches of the tops of some of the spears for garnish.
Add the asparagus pieces to the large pot with the sautéed onion, shallot and garlic. Add the chicken broth, cover and simmer for 15 minutes.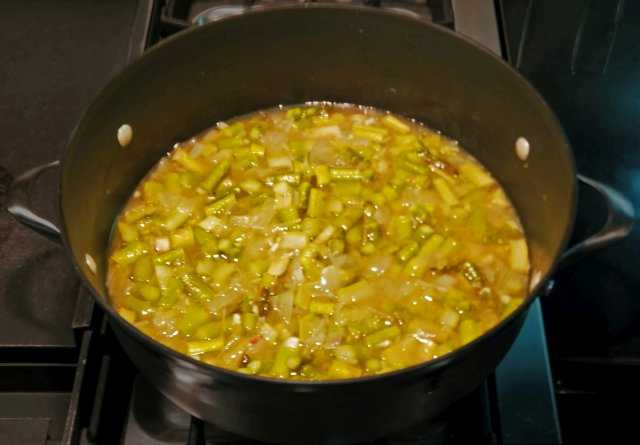 The asparagus tops for garnish can be placed in a strainer on top of this mixture and removed once they have become soft.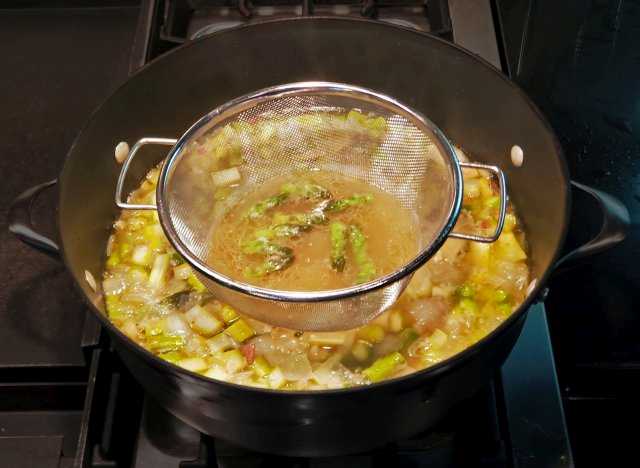 Uncover the pot and continue to simmer for another 15 minutes, continuing to cook the mixture while reducing the liquid.
Remove from stove and allow to cool. Once the mixture has cooled, place in a food processor and puree for 1 to 2 minutes. (The mixture may have to be divided into several batches depending on the size of your food processor.)
Pass the pureed mixture through a strainer with a large mesh to remove the asparagus fibers.
Mix in the lemon juice and heavy cream.
The flavor of this soup will improve slightly after being refrigerated overnight. The soup can be served hot or cold in a bowl with an asparagus top floating on top as garnish.