Melanie's Cod with Fennel Cream Sauce
4 large fennel bulbs with the green fluffy fronds
1 tsp fennel seeds*
12 garlic cloves, thinly sliced
3 cups heavy cream
1 Tbs salted butter
1½ lbs cod fillet with skin *
¼ cup extra-virgin olive oil
Freshly ground black pepper
salt
Peel the outer layer from the fennel bulbs, cut off the fronds (the green fluffy leaves) and set aside. Rinse the bulbs and cut into long thin wedges.
Place the fennel wedges in a large saucepan. Add garlic, cream, fennel seeds, and 1 tsp of salt. Cook over low heat, stirring occasionally, until fennel is just tender, 12–15 minutes (do not let cream come to a boil). Remove from heat.
Finely chop the fennel fronds to be used as the garnish and place into a small bowl; you should have about ½ cup. Add a ¼ cup of the fennel fronds to the ¼ cup olive oil and toss mixture to combine. Season fennel oil with salt and pepper.
Cut the fennel bulbs into long ½" thick wedges and place in a large saucepan that is wide enough to also contain the fish. Add the sliced garlic, cream, and season with salt (about 5 grams). Cook over low heat, stirring occasionally, until the fennel is tender, 15 minutes or more. Do not let the cream boil.
Season the fish with ½ tsp salt (more if you like). In a separate pan, melt butter over medium-low heat. Place cod in the pan and cook for 2 minutes. (The thickness of the fillet will determine the amount of time to cook on the first side.) Flip the fillet and remove from heat. Let the fish rest in the pan for a couple of minutes to continue to cook.
Divide the fish among the serving plates. Divide the garlic and fennel to place on top of the fish on each serving plate. Ladle some garlic cream on top; Sprinkle chopped fennel fronds on top of the cream and then spoon fennel oil over the fronds for the final garnish.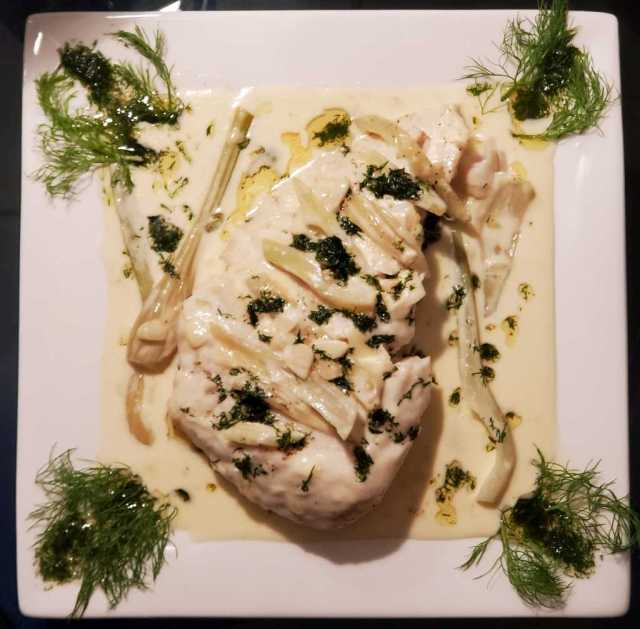 This recipe makes 4 servings.
*Note: Instead of fennel seeds, a smaller amount of ground fennel (to taste) may be used. If ground fennel is not available, toast fennel seeds in a dry pan (no oil) over medium heat for a couple of minutes, tossing frequently until you can smell the aroma. Then grind the seeds with a mortar and pestle.