Articles about Steve
---

Orlando Sentinel - Groovy Battle Nearing
May, 1968: Steve's Band, "Live Oak", appears in a "Battle of the Sounds" at Lake Eola.
---

Orlando Business Journal - Maitland Manufacturer's Electronic Part Becomes Darling of Computer Trade
July 2, 1989: "Maitland manufacturer's electronic part becomes darling of computer trade"
"If Steve Goldman were a traffic engineer instead of a computer engineer, Orlando's roads might be free of congestion today."...
---

Orlando Business Journal - DPT Takes Byte Out of Silver 50
October 16, 1992: Distributed Processing Technology gets top spot in the "Silver 50".
---

December 1, 1992: Steve is awarded "Entrepreneur Of The Year" for 1992.
---

Orlando Business Journal - Maitland's DPT on Cutting Edge of Peripherals Business
October 11, 1996: "At Distributed Processing Technology Inc. in Maitland, automated machines attach tiny electronic parts to circuit boards at lightning speed, then solder the connections and prepare the units for testing." ...
---
Orlando Business Journal - Snapshot Steve Goldman
June 19, 1998: Steve chose Physics over Music in college, but still wins 1997 Compsers Guild award for his composition Quicksilver's Salvitude.
---

Orlando Business Journal - Steve Goldman Composer
October 2, 1998: "... The Goldman touch. Steve Goldman, founder of Maitland-based Distributed Processing Technology and an internationally recognized musical composer, has completed a new piece, "American Sketches," that will be featured in two upcoming Orlando Philharmonic concerts."...
---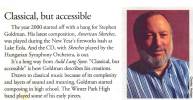 Orlando Arts Magazine - Classical, But Accessible
April, 2000: "Why would a classical musician study physics? "I like to eat," " quips Goldman...
---
Orlando Arts Magazine - House of Glass
November, 2001: "I built this house as a kind of sculpture," says Goldman...
---
Orlando Arts Magazine - A Sound Plan
May, 2002: "The newly formed Acoustic Committee has set out to tweak the sound of Orlando's performing arts venues"...
---

Orlando Arts Magazine - Shooting for the Moon
July, 2002: "Once grounded by financial problems, the Orlando Science Center aims to fly high again, with new management & innovative programs"...
---

Orlando Sentinel - Found Object Construction Wins $1000, Makes Breakfast
January 19, 2003: "Found object construction wins $1,000, makes breakfast" at Orlando Science Center/Goldman Kinetic Challenge 2003 competition.
---

Orlando Magazine - The Best Seat in the House
October, 2003: "Whether you are trying to make a big impression, or just want to have the best view, you are going to need the best seat in the house when you go out on the town."...
---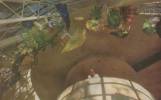 Orlando Sentinel - Chihuli Shattering Perceptions
January 17, 2004: "Enter the foyer of Stephen Goldman's home in Winter Park, look up -- and tremble! A one-ton cascade of sword-sharp glass dangles just a few feet above your head." ...
---

Orlando Magazine - The Art of Motorcycling
January 1, 2006: Says Goldman, "On a motorcycle, you can smell nature and you can feel it and you can hear it. It's like flying low. It's nature. It's total exhilaration."
---

Orlando Sentinel - Mr. Abstract Random
May 14, 2006: "Steve Goldman has a finger in a lot of pies and a helping hand for the cultural community. Welcome to the Renaissance, Steve Goldman style."...
---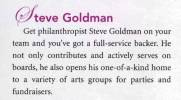 Orlando Magazine - 25 Arts Leaders
September, 2006: "Get philanthropist Steve Goldman on your team and you've got a full-service backer. He not only contributes and actively serves on boards, he also opens his one-of-a-kind home to a variety of arts groups for parties and fundraisers."
---

American Style Magazine - Through the Glass Clearly
June, 2007: "Classical composer and glass collector Stephen Goldman devotes his life and his living space to championing the arts"...
---

Orlando Magazine - Double Life
November, 2007: "He grew up equally at ease in the seemingly different worlds of music and science which, to this day, are where Steve Goldman, 56, still lives"...
---

Mall at Millenia Magazine - Sharing Their Passions
December, 2007: "Steve Goldman was in a college chemistry lab when glass first caught his eye. "I always thought scientific glass was really beautiful. It had a unique, intrinsic beauty, " the Winter Park philanthropist says."...
---

UCF Central Florida Future - Goldman Physics Lectures
February 20, 2008: UCF officials host a series of lectures on mathematical physics sponsored by Steve Goldman beginning March 1.
---
Orlando Home & Leasure Magazine - Glass Act
April, 2008: "Curling tendrils of crimson red, electric green and cobalt blue, lily pads of translucent yellow and pink - it's hard not to be intrigued by the creations of renowned glass artist Dale Chihuly. One who has been bitten, hard, by the Chihuly bug is local collector Steve Goldman."...
---

Executive Living Magazine - Busy as a Bee
June, 2008: "Steve Goldman gets behind efforts to improve arts, education"...
---

Orlando Sentinel - $100,000 a small price to pay for less clutter
August, 2008: Steve Goldman foots the bill to bury power lines on Venetian Way and Azalea Place, as the first to participate in a city program that lets neighbors share the cost to speed up the process of getting their power lines buried.
---

Orlando Sentinel - Stepping Into A Premiere Performance
March 27, 2009: "Ballerina Katia Garza's original ballet to Winter Park composer Steve Goldman's score marks firsts in the careers of both creators. It's his debut as a ballet composer, hers as a solo choreographer on the Carr Performing Arts Centre stage."...
---

Orlando Magazine - The Man in the Glass House
July, 2009: "Steve Goldman pictured his ideal home as one that would reflect his passions for art, science, music and nature. Clearly, he got his wish."
---

Winter Park Magazine - Clearly Gorgeous
January, 2010: "Steve Goldman's home, like the creations it holds, is a work of art."
---

Orlando Home & Leisure Magazine - Why I Give
December, 2011: "Philanthropist Steve Goldman's home, decorated with Chihuly glass sculptures, serves as headquarters for his campaign to expand and enhance Central Florida's cultural offerings."
---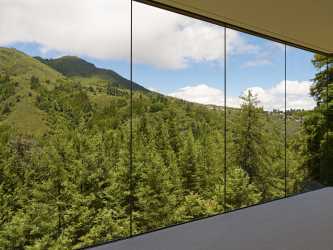 Marin Magazine - Room with a View
January, 2015: "A remodel turns into a complete reconfiguration with stunning results."
---

Winter Park Magazine - Winter Park's Most Influential People
July, 2015: "Who calls the shots in Winter Park? Here's our compilation of people who really make a difference."
---

Arts Life - Fantasy Camp for Composers
September, 2015: "Winners of this year's musical challenge get to hear their works played by pros, and so do you."
---

Orlando Sentinel - How Do We Expand the Urban Parks People Love
September, 2015: "Steve Goldman, a successful computer technology developer-turned-supporter of the arts and sciences, is asking those questions."
---